The most effective way to organize, collaborate and distribute tasks for electronic plan review is using a workflow that is fully integrated to government technology. This ensures that delays are not incurred waiting for tasks to be allocated or files to be downloaded and uploaded (usually multiple times).
But how can additional data be captured? Or further tasks set to initiate further processing of plans and documents?
Let's be honest – there is usually a piece of paper or an Excel spreadsheet with additional information that cannot be put into the back-office system. These 'to dos' can be as simple as a note or a reminder to complete an activity; but they can also include critical data to ensure the review process can be finalized.
The challenge is this piece of paper is on a desk, or the spreadsheet is on a hard drive. It cannot be accessed by others. And there is no collaborative way to share what can be critical information.
How do custom fields in DigEplan help me?
Permitting systems provide workflow to ensure the appropriate process has been followed. Those systems may not necessarily support additional processes once a workflow has been initiated. DigEplan goes a step further with a feature called Custom Fields.
Custom Fields help plan reviewers and their colleagues manage tasks efficiently by enabling additional fields to allocate actions – and it is fully integrated to your permitting platform.
For example, you can create an indicator for a Town Hall meeting as part of the review. In DigEplan Administration, simply create a custom field and add as a dropdown. Give it an appropriate name – in this case 'Town Hall Required' and 'Town Hall Not Required'.
You can set the default, so users do not need to complete any changes where no change is required.
The custom field is then displayed, to provide visibility to all parties as to whether this document or plan is required for a town hall.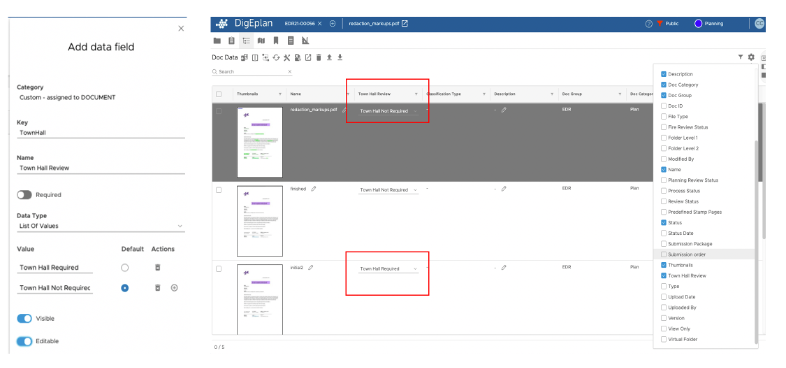 Other ways to use custom fields to save time for your plan review teams include:
To add Notes to a document
Add a Received Date and Stamp (if not already defined in the Permit system)
Add a Document Category (if not already defined in the Permit system)
Town Hall Review indicator
Inspection required indicator
Resubmittal Required indicator
Another significant benefit is the Group feature. This gives the ability to group plans and documents based on the custom field data. If you think you'll frequently want this view, you can save using the saved views feature.
DigEplan is shown to be 200% faster than desktop-based PDF markup tools in benchmarks. Why? Because it provides a fully integrated user experience for your teams involved in permitting and plan review.
As a cloud tool, we are constantly delivering new features to enhance workflows and drive efficiency in the permitting processes for electronic plan review. Working closely with our government technology platform partners and our customers to develop features that enhance the process, such as custom fields, we aim to enable organizations to issue permits faster.